The business model of Educational Institutions is different from that of the corporations. Since they are formed as not-for-profit entities and have been treated traditionally as social organizations, the financing has essentially been done through Government grants. With the advent of private universities the financing is usually structured using the corporations as vehicles for the establishment of the universities.
Avenues for private investment will be in the form of financing infrastructure and specific activities of research and innovation. There is good scope for investment by Private Equity players and Venture Capitalists in the private universities. Debt financing options are also available. Financing of operations can be done through short term financing options.
Education Sector has recently seen huge investment closures by reputed national and international companies, including private equity firms and venture capitalists.
Many existing educational institutions require funds for expansion of the existing infrastructure and consolidation of existing network. Venturelab assists such institutions by efficient fund advisory and fund generation.
Venturelab aims at providing specialized and complete value-chain of funding solutions at the following levels of education spectrum:
Private Universities
Deemed-to-be-Universities
Affiliated Professional / Technical Colleges
Autonomous Higher Educational Institutions
Study Centers / Off-Campus Centers
Ancillary / Vocational Institutions
Schools (Nursery / Primary / Secondary / Senior Secondary / Higher Secondary; Day / Boarding; National / International Curriculum)
Debt Syndication
Our Debt Syndication wing encompasses funding activities for diverse requirements of educational organizations. We understand the need of edupreneurs and are committed to provide the most simple and risk free solutions possible. We offer our services in the areas of syndication of funds for projects, working capital requirements, debt restructuring as well as several other structured products. Our clients have benefited by the way we have handled their varied business needs and arranged funds for them.
The key success factor for us has been our domain expertise in the said areas:
Working Capital
Our team of professionals has acquired extensive expertise and know-how of the various areas of working capital financing from banking organizations. Our Business Development & Analyst team work for successful & speedier execution of Projects for the benefit & demand of the client. We have proficiently mobilized working capital for a host of institutions in different parts of the country. Our clients have obtained working capital loans for most functions including flooring of book debts, inventory and for varied purposes.
To ensure results as desired commonly with clients, we follow most basic attributes for successful closure of the project offered, which flows as:
Understanding Promoter – his vision & objectives
Understanding Educational Group's Background, Present strength – from technical to market
Seeking Institution as per the client profile & need specifications
Preparation of information memorandum for Banks/ FIs/ Funds
Presentation of Financial Statements
CMA presentation – both actual and projection (based on facts and information provided)
Term Loan
Venturelab offers project finance for 3 to10 years with a moratorium upto 2 years. We assist clients in availing project loan from alternate financial institutions. In particular, it helps in the process of application and documentation requirements for appraisal, sanction, disbursal and monitoring of fund-raising.
We work very closely with the leading Banks/FI's, therefore our in-depth understanding of the functioning of the Banking process and the norms makes the transaction flow smoother. We structure the transaction in such a manner that it accrues maximum benefit to our clients – both in terms of pricing & servicing. The transaction can be in INR or Foreign funding based on client's need.
Private Equity
Overview
Venturelab is India's most preferred private equity firm focused on India's $86 billion education industry. It was established with an aim to make growth stage private equity investments in the Education sector in India, which, according to erstwhile finance minister Mr. P Chidambaram, is "the pillar on which rests the edifice of social sector reforms."
Education is a growth sector and demand for education is relatively price inelastic. As a result, the sector is less affected by the recent market downturn and to that extent has emerged as fairly recession proof. With a rising population and low levels of government expenditure, there exists a large opportunity for private sector participation.
We invest in promising companies with a keen focus on adding significant value post investment. These companies are leaders in the core, parallel and ancillary segments of Education. The Venturelab team consists of entrepreneurial professionals who bring a combination of investment experience, domain knowledge and operations expertise across sectors including the Education sector. This team has a passion for building companies that promote modern learning methodologies designed to create tomorrow's leaders.
Strategy
We view every management team and entrepreneur with whom we work as partners with a vested interest in growing the business. At the outset of every relationship, we ensure that our interests align with those of our partners.
We invest in opportunities in which we can build long-term economic alignment with the existing owners. We form trusted relationships founded on a shared commitment to excellence and growth. Together, we develop strategy and execute to build a sustainable competitive position. At the heart of our partnership approach is direct communication guided by honesty and transparency. Through candid dialog and a trusted relationship, we define obstacles and align our collective experiences to achieve optimal growth.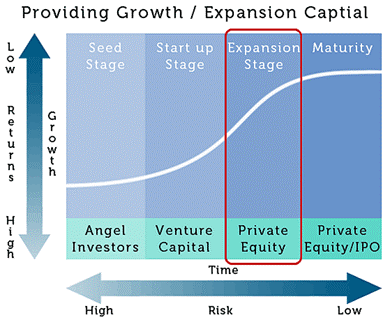 We typically work with:
Entrepreneurs looking to grow their companies
Industry professionals with a proven track record that are searching for a new platform
Founders of institutions and companies who seek a balance between liquidity and retaining an ownership interest for participation in future growth
We leverage our core competencies to focus on funds that encompass small and middle-market buyout transactions. Our investment strategy is to typically invest from $10M to $20M of equity in each company with which we partner.
Key Aspects
Investeurs PE practice is earnest in its endeavors to provide entrepreneurs/corporates with rational, competent advice on their business models, financial positioning, suggest an optimum capital structure conducive to infusion of equity for sustenance, revamping, expansion needs. Key aspects include:
Assessing equity-readiness of business model
Preparation for investment via PE/VC
Seek funds from investors/funds
Seek business partners as strategic partners, collaborations & joint venture
Advising on structure, pricing, and critical covenants
Undertaking preliminary due diligence
Preparation of Information Memorandum, financial models
Conducting road shows
Short listing of interested investor(s) and carrying out initial negotiations of investment terms
Assistance in investor(s) due diligence and closure of transaction